I've always used movies to get to know a place. When I visit somewhere new, I like seeing it from as many angles as possible — and since a film presents a certain person's view of a particular place (or places), I feel like it's a great way to see through another person's eyes.
Before coming to Philadelphia, I could not think of any films I had seen that were shot in Philadelphia (no, not even Rocky–blasphemy, I know!). I also had no real idea of what the city would look like, what it would feel like from on the ground… so when I first arrived and began to get to know the city in my own way, I also wanted to explore the ways that Philly has been shown on film. So, as one of my TPC-directed objectives for the semester, I decided I was going to watch all the best Philadelphia films I could.
I compiled a list of about 7-8 films that were either entirely or partially shot in Philly, then made a plan to watch them over the course of semester (with the support of my obliging roommates). I had not seen any of them before, so I thought this would also be a great opportunity to bulk up my Film major cred. Now, as my semester in Philly is coming to a close, here's the list (in order) with a few of my thoughts:
1. 12 Monkeys (1995)
While a bit predictable, this movie was still very entertaining. Since it involves time travel, some of the coolest scenes were shots of the downtown Macy's–both in the recognizable present and in the post-apocalyptic future. I also loved the scenes shot in Eastern State Penitentiary, which was used as stand-in for a mental institution.
2. Blow Out (1981)
Despite my strong distaste for John Travolta, I really enjoyed this film–up until the depressing end, that is. The best Philadelphia sequence was at the end of the film, when Travolta's character goes on a thrilling chase from 30th St. Station, into the subway, drives through City Hall, and ends up near Penn's Landing on the Delaware River. By the time we watched this film I was starting to find that I could identify almost all of the major Philly landmarks.
3. Witness (1985)
This film is really just a predictable Harrison Ford vehicle. Though I wasn't terribly impressed, I liked the scenes in 30th St. Station and the glimpse into Amish life–I had never encountered anything like the Pennsylvania Dutch until coming here, so this seemed like a very quintessentially Pennsylvania film.
4. Trading Places (1983)
Though this was the first comedy we watched, it was also the first that dealt with some of the racial dynamics of Philadelphia. Despite some off-color jokes, I appreciated how this film broached the subject of race and class in Philadelphia. I also liked seeing and recognizing the areas near Rittenhouse Square, where I worked this semester.
5. The Sixth Sense (1999)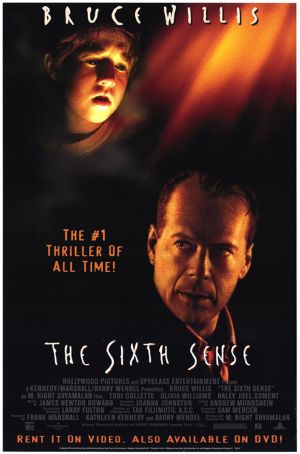 More Bruce Willis! Ok, this is by no means a horror film, and in my opinion, it barely passes as a thriller. But I enjoyed it, even though I already knew the 'twist' ending. Though this one didn't have as many Philly landmarks, I was still able to recognize many of the scenes that were shot in Philadelphia.
6. Philadelphia (1993)
The characters and the acting are what really make this film. Though it's the kind of storyline that we've seen again and again by 2015, I can only imagine how this might have affected people dealing with HIV/AIDS in 1993. And yes, I cried at the end. Best Philly sequence? That opening song, which won Bruce Springsteen an Oscar.
7. Rocky (1976)
Ok, being honest here: this movie is kinda cute, but not that much actually happens. I feel like it's been so hyped up over the years that my expectations were just too high. I will admit, though, that as soon as it hit that famous training sequence, I started excitedly naming all the landmarks I could, and by the end I wanted to run up the art museum steps just like every other silly tourist.
Final Thoughts: The biggest parallel I saw between these films was the fact that City Hall showed up prominently in almost every single one. It seems to be Philly's true identifier–it's both the literal and symbolic center of the city, with everything radiating outward from it. And really, though I've gotten use to it now since I see it almost every day, seeing it on film reminded me of that first night I arrived in the city. It was dark, I had somehow found my way from the train station to the hotel, and I was tired and anxious. But then, when the TPC staff led us down Walnut St. and we suddenly turned the corner onto Broad St., I literally gasped when I saw City Hall. It was so beautiful, all lit up in the night like a beacon. I had never seen any building like it up close before. And judging by these films which go back forty years or so, it was just as memorable then as it is now.
*Side note: The 8th film I watched (which was after The Sixth Sense and before Philadelphia) was The Philadelphia Story (1940). While a great movie, I realized afterward that it was pretty much all shot in Hollywood and that the title was really the only thing connecting it to Philly, so I excluded it from the final count.